I'm getting bombarded with offers for a free roof inspection! Has someone knocked on your door recently offering to inspect your roof for storm damage? Maybe you got a letter or door hanger about inspecting your roof. Why are roofers doing this? Should I let them do the inspection? What should I be concerned about?
We are going to discuss these things here, and hopefully after, you will have a better understanding of the issue and why you might want to think twice before letting someone inspect your roof.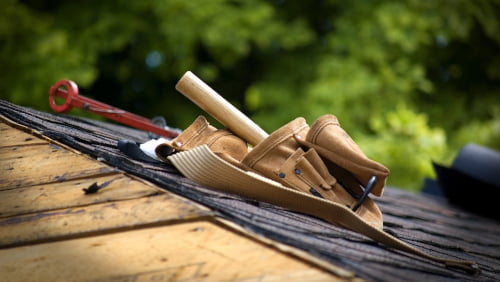 Why Do Roofers Want to Do a Free Roof Inspection?
We all know that Florida deals with hurricanes, tropical storms, and other wind issues. This does cause legitimate storm damage to our roofs from time to time. Some roofing companies have figured out that inspecting for this damage is a way to get new customers and grow their business. For companies that behave ethically, this isn't necessarily a bad thing. However, there are a lot of companies that act less than ethically when soliciting homeowners for free roof inspections.
So Should I Let Them Inspect My Roof?
So far it doesn't sound too bad, right? What could go wrong with a free roof inspection? Here are some of the big concerns that come up from these storm damage inspections.
Is There Actually Damage?
As we mentioned before, Florida does experience damaged roofs from the storms that we have. Unfortunately, this free roof inspection is an opportunity for an unethical company to fabricate damage that wasn't actually there. The BBB even talks about this on their site cautioning consumers against these free roof inspections. So most of the time, these roofing companies advertising this way claim to find storm damage and want you to initiate a claim with your homeowner's insurance.
How Much Does the Roof Replacement Actually Cost?
Once you've agreed to file the claim, there are 2 concerns that often arise. The first is an assignment of benefits (AOB) contract. Click the link for our article that talks about AOB concerns more in depth. Second, the cost of the roof is often inflated. According to Leader, Leader, and Zucker this can be 150% or more of the normal rate for a standard roof replacement.
Why Do They Want to Take Legal Action?
When an insurance company hesitates to pay due to suspected fraud, disputed costs, etc, the roofing company often initiates legal action against the insurance company. Often times these lawsuits are unnecessary when an insurance company is working with a reputable roofing company.
In the end, these fraudulent claims, inflated costs, and legal fees increase the cost of homeowner's insurance for all Florida homeowners. It also causes insurance companies to put strict limits on the age of roofs that they are willing to insure. Ultimately, this hurts all of us in Florida. Tallahassee passed some reforms last year to address these issues in SB76, and time will tell how much it helps.
What Should I Do If I'm Concerned About Roof Damage on My Home?
So we've talked about some reasons that you may want to reconsider allowing a random, unsolicited roofing company up on your roof for a free roof inspection. But what should you do if you think you may have damage from a storm?
We talked to our friend, Steve Straub from Musick Roofing in Lakeland. We asked him how a homeowner should handle this situation. He said that you should look for a reputable roofing company in your area that you trust. Check to see if they are recommended by the Better Business Bureau. Also, read their online reviews to make sure that they are providing quality service. Do you know anyone that has done business with them? Your friends and family may know of honest roofers in the area just from normal roof replacements due to age and wear.
In the end, although it's convenient to have the guy at your door do the inspection, it is often times not in your best interest. If you are concerned about your roof, take a little bit of time to research trustworthy roofing companies in your area (like Musick Roofing in the Tampa Bay area) and give them a call. A good company can give you an honest assessment of your roof, and they can handle the replacement if it truly needs it.
We hope this information is helpful the next time you have a company knock on your door, leave a door hanger, or send you a letter about a free roof inspection for storm damage.