What is the difference on an open perils (all risks) vs named perils policy? It is a good, important question but can get into kind of boring insurance stuff. We will try to make it as easy to understand here.
First, what are "perils" anyways? Perils are the things that cause the claim. Fire, wind, flood, and theft would be a few examples of a peril. Now that we know what perils are, let's look at open peril coverage vs named peril coverage.
Open Perils (All Risks) – Everything is covered, except the specifically listed, excluded perils. (See Irmi for more info)
Named Perils – Nothing is covered, except the specifically listed covered perils. (Irmi)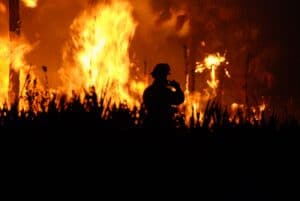 OK, great but what does that mean?
Most of your everyday coverages will be similar on both policies. For example, flood will be excluded on open perils and it won't be listed on named perils, so it won't be covered either way. Fire will be listed on a named peril policy and won't be excluded on an open peril policy so it'll be covered on both. (This is for most policies, you should always review the specific terms of your policy.)
Great, so again, what's the difference?
The main difference is when weird situations come up that haven't necessarily been considered. On an open peril policy, any gray area, unlisted cause of loss is in your favor as the policyholder. It is up to the insurance company to show that whatever caused the loss is excluded, otherwise they have to cover it. On a named peril policy, gray areas are in the insurance company's favor. You, as the policyholder, would have to show that the claim was caused by one of the listed perils.
Conclusion – Open Perils vs Named Perils
Open perils is more beneficial to the policyholder. Everything is covered, unless it's clearly excluded. Named perils is more strict and you will have to show that a claim is due to a specifically listed peril. If you have a choice, open perils is usually the way to go and usually isn't much of a difference in the overall premium.
I know this is some boring, technical insurance stuff. If you prefer to speak to an expert on our team, give us a call today! We are Think Safe Insurance – 813-425-1626.