What does it feel like to deal with a stolen car? I didn't think I'd ever know, but sometimes life surprises us. So there I was talking with a friend as we walked out the front door at the local electronics store where we worked. We'd done it a thousand times during college. The side door opened and I looked into the parking lot…Hey…Wait a minute!
Realization
I looked at my friend and asked, "Am I missing something?"
My friend asked, "What do you mean?"
"Do you see my car?," I asked.
He said, "No, did you drive today? Maybe you parked around the building?"
So that was how my stolen car story started. It was a very odd feeling. We double checked the side of the building. It wasn't like it was a great car. It was a 12-year old Pontiac. Probably worth $2,000 to $3,000 at the time. Why would someone steal that?
Interesting Tip: Check Your Cup Holder
Recovering the Stolen Car
Apparently that type of car was easy to steal and being a college kid, I had a nice radio in it. I made a police report. It was only a few days later that they found the car abandoned in a fast food parking lot. The radio and everything had been stolen and the car left there.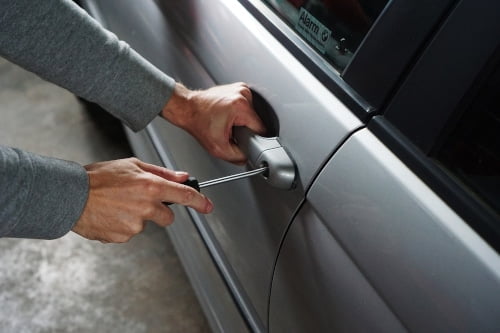 The police called to let me know that it was recovered, and where to pick it up. I had to go to the local towing yard. The windows were left down in the rain and the thieves weren't careful with taking everything out. The car was in rough shape.
What Next? – The Stolen Car Claim
Luckily I had insurance for a stolen car. Comprehensive (Other than Collision) coverage is usually what applies for this. I had kept this coverage, even though the car was older. Comprehensive usually isn't very expensive, so a lot of times it makes sense to keep it.
I had to pay my deductible…That part was frustrating – I didn't even do anything wrong! The claims department worked with me to settle the claim. They ended up totaling the vehicle, so I got a check for the value of the car minus my deductible. But I was thankful. Without comprehensive, I wouldn't have gotten any money to repair or replace the vehicle, and that would have been way more frustrating.
Conclusion
When deciding if you should keep comprehensive coverage, compare the cost of the coverage to how much coverage you are actually getting. Remember comprehensive covers theft, fire, vandalism, storms, glass, etc. Review your policy documents for specifics, as it will list exclusions, but I know I was thankful that this coverage was on my policy even on an old car.
We know it can be frustrating paying an insurance bill. But when you need it, like dealing with a stolen car, you will be glad that you have the right coverage. If you haven't reviewed your policy in a while, contact Think Safe Insurance today 813-425-1626! We will be happy to review your coverage to make sure you are covered correctly, and as an independent agency we can compare rates with multiple companies to make sure you are getting the best value.
Have you had a car stolen? How'd you feel? Leave a comment below with your story!