United Property & Casualty or UPC Insurance has been in the news a lot. So what have you heard? Whether you are a policyholder with United or you are just looking for more info, you are in the right spot. Today, we are going to look at the latest news, what that means for current policyholders, a brief history of UPC Insurance and how our team can help.
Latest United Property & Casualty / UPC Insurance News
Wow, the news has been coming in fast for UPC over the last week or so. United Property & Casualty Insurance had approximately 185,000 Florida homeowner's insurance policies in force. The company wrote policies in multiple states. However, earlier in 2022, the company announced that they will be withdrawing from Georgia, Massachusetts, North Carolina, and South Carolina. On August 1, Demotech, which is the financial stability rating company for many Florida insurers, downgraded the company from A-rated to M-rated.
The next big news came on Aug 25 when the company announced that it would withdraw its personal lines business from Florida, Louisiana, and Texas. They were planning to do an orderly runoff, which means that existing policies would remain in effect until their expiration, and then they would be non-renewed. Then on the same day, Demotech withdrew the financial rating for UPC.
We could be looking at the 6th insolvency for Florida insurers this year, according the Triple-I through Insurance Business Mag. This would be the largest with approx 185,000 policies. The company has started laying off employees with 80 employees being laid off last week.
Related: St. Johns Insurance News
Avatar Insurance News
Lighthouse Insurance News
I Have a United Property & Casualty UPC Insurance Policy. What Does That Mean for Me?
The original plan that was announced was an orderly runoff meaning that existing policies would extend until their expiration. However, that was before the company's financial rating was withdrawn. It hasn't been announced yet what will happen, but usually these companies become insolvent when they lose their financial rating. Many mortgages won't accept coverage from an unrated carrier.
Since the policies will be non-renewed anyways, it makes sense to try and replace coverage now. Florida guidelines are constantly changing right now, and we don't know what the availability of new policies when your policy is non-renewing. If you want to look for replacement coverage now, contact our team at 813-425-1626 or request a quote online.
History of United Property & Casualty UPC Insurance
The company was founded in 1999 and headquartered in Saint Petersburg, FL. Expanded into 11 additional states from 2010 to 2016. In 2016, UPC was ranked #38 on the Forbes list of fastest growing companies. Also, began expanding through acquisitions from 2015 to 2017.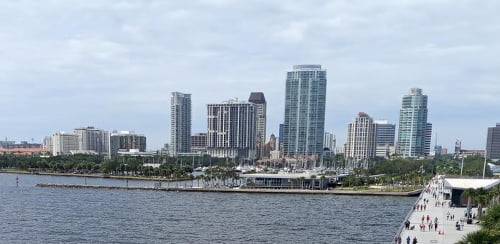 The Florida home insurance has been going through turmoil for the last 3-4 years. In 2022 is when everything started catching up. UPC was downgraded by Demotech and eventually had its financial stability rating withdrawn.
UPC Insurance Policies:
How Can Our Team Help?
Whether you need a quote for a new policy or if you just have some questions, our team at Think Safe Insurance is here to help. Since we are independent agents, we can shop your policy with multiple companies to make sure you have the right coverage at the best price. Give us a call at 813-425-1626 or request a quote online.